Quality Tubular
Products
Since 1962
Providing a variety of quality fabricated tubing components in many industries:
Allegan Tubular Products, the leader in fabricated tubing and tube assemblies for the appliance industry is fast becoming the leader in the wire carrier world.
We are certified to ISO 9001:2015 standards and as such, product quality and all other aspects of meeting our customers' requirements and expectations are measured and continuously improved.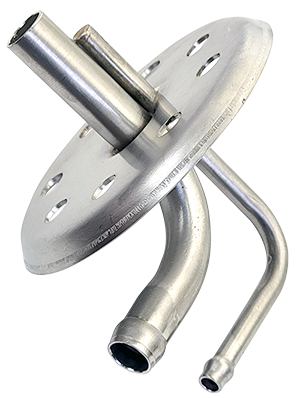 Our tool room gives us a distinct advantage over other tubing fabricators: we can build our own machines and tools for your job quickly and at a competitive price.
Along with our machine and tool-building prowess, we often develop cost-saving ideas that help our customers' bottom lines. We know tube fabricating and we know the most economical way to do the job.
Warehousing is available in Allegan at our plant or near your facility.
We fabricate tubing used in:
Gas
Water
Air
Hydraulic
Gasoline
Gas Feed-Lines
Gas Manifolds
Visor Tubes
Spacer Tubes
Flexible Stainless Gas Lines
Overflow Tubes
Handlebars
EGR Tubes
Vent Tubes
Pilot Tubes
School Desk Tubes
Chair Tubes
Spa Heaters
Draw Tubes
Air Tubes
Fluid Tubes
Burner Supply Tubes
Handrail Tubes
Drop Tubes
Transmission Tubes
Dipstick Tubes
Fuel Intake Tubes
Sprinkler System Tubes
Wire Carriers
Wire Hats
Tube Carriers
Coil Carriers
Our tube forming capabilities include:
Metal Tube End Forming
Tube Swaging
Tube Reducing
Tube Bending
CNC Tube Bending
Tube Beading
Tube Welding
Tube Flaring
Tube Flanging
Tube Machining
General Machining
CNC Machining
Tube Assembly (with weldments, brackets or other tubes)
We can provide finished products complete with the coating or plating of your choice, including e-coating, zinc plating, chrome plating, and powder coating.
We have experience in fabricating tubes of carbon steels, aluminum, copper, brass, stainless steel, and flexible stainless steel.
Metal tube fabricating processes include:
Beading
Bending
Flaring
Reducing
Expanding
CNC Bending
Tube Forming
Swaging
Threading
Welding
Flow Drill
Tube End Forming
Brazing
Flanging
Assembly
Plating/Coating
CNC Machining
Horn Bender
This Horn Machine Tools 80 TMRE CNC Bender is capable of bending tube from 0.039 inches OD to 3.150 inches OD.
Wire Carriers
Added to our list of products and capabilities are these items:
wire carriers
, tubing carriers, coil carriers, wire hats, wire transporters, bicycle racks, picnic table and outdoor furniture frames, and other tubular fabrication up to 3 inch outside diameter.
ISO
9001:2015 Certification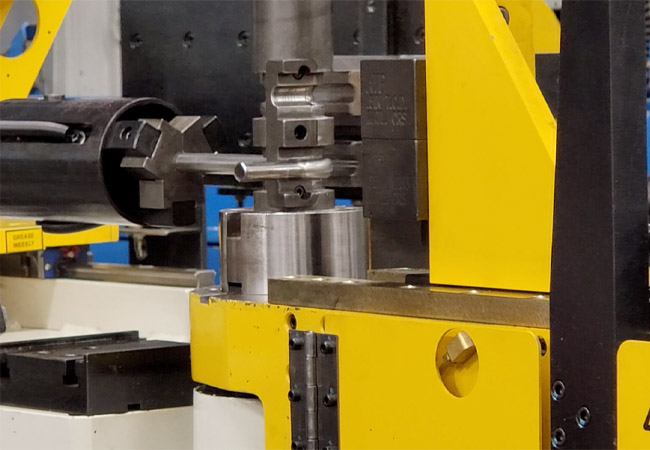 We are
ISO 9001:2015 certified.
highly valued by our customers.
innovative.
economical.
easy to work with.
partners in your project.
Allegan tubular has developed the knowledge and capability to customize equipment for unique tubular bending, end forming and welding processes to meet specific customer needs. In addition, Allegan Tubular has demonstrated history of custom building automated process to meet higher volume production demands.